Wool Pack Labels
Current Bale Label
click here to view Frequently asked Questions from Woolgrowers about Labels
click here for Information on Bale Marking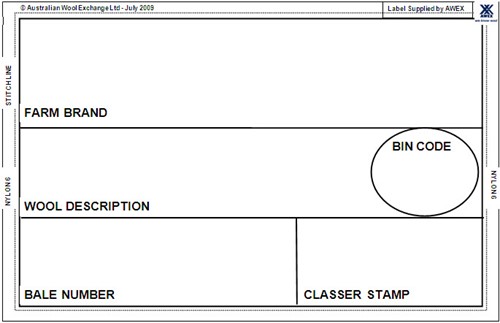 i
Discontinued - 2009

Discontinued - 2003

Discontinued - 2002
The Introduction of Pack Labels
At the end of 1999, the Intrawool Australian Project recommended to AWEX that a unique number appear on each bale of wool in Australia. The purpose of this number would be to facilitate the identification of the bale at each stage of handling. The result would be more efficient logistics management throughout the supply chain and reduced errors in bale identification.
Intrawool also recommended that the unique number, in the form of the international EAN numbering system, be represented by a barcode. This would appear on a label with other bale identification requirements. Using this system, there are sufficient barcode numbers to last 200 years at a usage rate of 5 million bales per year or for 333 years at 3 million bales per year.
AWEX adopted these recommendations for implementation in the 2000/01 selling season.
The label (in 2000) included:
the barcode, with full EAN number,
the unique bale number (indicated in large print),
farm brand,
wool description, and
classer registration number.
In 2009 AWEX accepted a recomendation from ISAC to remove the unique number and bar code as they were not being used.  AWEX also adopted a further recommendation to change the orientation of the bale label from portrait to a landscape orientation. 
The current bale label has been designed to increase the available writing area on the label to allow greater visibility of the Farm Brand, Wool Description and Bale Number.  The new Bale Label also provides room for a newly introduced "Bin Code" to be used by woolclassers.  The use of the Bin Code assists wool warehouses in the identification of individual lines of wool prepared by a woolclasser.  Details on the use of the bale label can be found in the 2010-12 Code of Practice for the Preparation of Australian Wool Clips.
The bale label is sewn onto the top flap of the wool pack so that it is clearly visible after baling. The width of the label is 280mm and is designed to sit above the seam of the wool pack to allow room for the bale fastener to be applied.
The marking of the head of a bale is important as it can be done whilst in the wool press.  Care must be taken to ensure that the correct information is marked on every bale.
The use of the Bale label is recommended.  The size of the bale label is such that sufficient room has been left for traditional stencil marking of a bale to be used where necessary.
The marking of the bale on the head and face is important to the accurate logisitcal movement of wool.  The use of the label will not preclude growers from branding the face of the bale. Woolclassers are also provided with a stamp (in addition to a stencil) that will fit the space provided on the label.